We live in a country with the world's largest economy on public display at all times and it has been very clear that COVID-19 is having devastating job and income loss impacts across America and the world. With major disruptions to air travel, oil, entertainment, service, and tourism industries and their corresponding supply chains, this is an event unlike any other. It's also possible these are just an early wave of industry setbacks and other impacts won't be felt for some time. This morning's report published by the U.S. Department of Labor showed an increase in weekly unemployment by another 3.2 million to a total of 33 million jobs lost over the last 7 weeks since the pandemic took its footing in the States. At a time with an overall shrinking economy paired with banks tightening lending requirements and general uncertainty, one may think buyer competition would be very minimal in the market at this moment. Instead, while buyer demand has diminished slightly. It's very clear that the supply of listings for sale on the market has dwindled even faster, creating the biggest "seller's market" Charlotte has ever seen. Read on to understand what variables are affecting the market and what it means for home values.
Just like many other assets, real estate value is subject to the laws of supply and demand. Scarcity could be argued as a better description for supply as only a finite amount of land exists. Of course, there are townhome and condominium construction providing opportunities at higher density per acre as another way to increase supply when and where zoning may permit. There are two other major drivers in real estate value: the property's utility and transferability. These refer to how useful a home is (not just to one but many buyers) and what zoning or rules and restrictions are imposed. Of course, location and both the physical and intangible characteristics of a home are also subject to rules of supply and demand, where the more desirable a home, the more valuable it generally is. For example, if a town has a high demand and low supply in housing stock, owners often benefit from getting a higher price for their homes. But if there are a ton of properties for sale and only a few buyers, the sellers may end up getting less than their asking price.
How Do We Determine Inventory?
Simple, using a term called monthly supply of homes. This is one of the most important hypothetical questions we can ask in real estate. Before meeting with sellers on any listing appointment, I always pull the necessary data from the market to answer this question for a seller's specific neighborhood, school zone, and zip code so we can understand exactly what their competition looks like which is crucial when making a final pricing decision. What this question asks is, "if no new listings were to come on the market from this point forward, how long would it take for what's already for sale currently to sell off?
Let's imagine this situation actually happens. Starting today, no new listings will hit the market. Snap. What's next?
As of yesterday, there were a grand total of 2,534 active properties listed on the Multiple Listing Service (MLS) and located within Mecklenburg County. This includes single family homes, townhomes, and condos.
What we know is that over the last 6 months, there were 8,939 condos/townhomes/single family residential homes sold on the MLS in Mecklenburg County which accounts to an avg rate of 1,490 properties sold per month. If we divide what is currently for sale (active) by the rate at which they have sold we can get our answer. In this case (2,534/1490 = 1.7) meaning the monthly supply of homes is 1.7 months (just over 50 days).
The National Association of Realtors and many housing economists view roughly 5-6 months supply of homes as equilibrium where a healthy and balanced inventory exists on the market where neither buyers nor sellers have a major supply/demand advantage. They also define this as a time where the number of listings roughly matches the number of buyers. Notice on the graph below the last time Mecklenburg County was in a "buyer's market" (more than a 6 months supply of homes) was mid-2012.

The current 1.5 month of supply of homes across all Mecklenburg County is a strong "seller's market", a time when the seller has a hefty supply/demand advantage. I started my real estate journey in the Fall of 2015 so this is the only type of market I have experience selling in. I find it interesting to see how the county's 1.5 months supply average shakes out differently over different price-points.
Stick with me here, let's see how this breaks down in each of these different price-point scenarios for single family homes:
A. All Meck County: all single family residential (SFR)
6,596 homes sold in last 6 months (1,099 closed home sales per month)
1,817 currently active
= 1.65 Months supply of inventory (50 days)
B. All Meck County: SFR under $500k
5,495 homes sold in last 6 months (916 closed home sales per month)
1,120 currently active
= 1.2 months supply of inventory (36 days)
C. All Meck County: SFR Under $400k
4,783 homes sold in last 6 months (797 avg closed sales/month)
854 currently active
= 1.07 months supply of inventory (32 days)
D. All Meck County: SFR Under $300k
3,368 homes sold in last 6 months (561 avg closed sales/month)
479 currently active
= 0.85 months supply of homes (25 days)
E. All Meck County: SFR Under $250k
2,169 homes sold in last 6 months (362 avg closed sales/month)
260 currently active
= 0.71 months supply of homes (21 days)
F. All Meck County: SFR Under $200k
928 homes sold in last 6 months (155 avg closed sales/month)
105 currently active
= 0.67 months supply of homes (20 days)
The easy to spot trend here is that supply of homes drops the lower the price-point shopped. A buyer shopping up to $500k may have about twice the options a buyer shopping under $200k does with no other search criteria.
Where do Days on Market come in?
A common question buyers ask at the end of showing they like is "can you remind me.. the price and how many days on market this property has been listed?" This is a routine question because buyers are really asking "do we think there is a demand for this property at this price". In some rare cases, I've seen listings on market 6 months and still sell for full price. This is definitely the exception and not the norm in the real estate market. This is because as time passes, it tells the buyer the demand doesn't exist at that price. On a broader scale, examining days on market trends is another indicator of demand. With a median of 5 days on market, Charlotte listings have never sold as fast.

So, where are Charlotte Home Values?
Have you noticed that we're using medians when referring to days on market and now with sale prices? Medians are common in real estate as they represent the point where exactly half of all properties either sell above or below the given value. Average sales price or days on market takes into account the sales and listings with extraordinary results which can skew the data. Are you seeing that Mecklenburg County's median sale price rose from around $250k 4 years ago to $325k today?

Wait, Why Has Supply Dropped?
COVID-19 is the changing how people view residential real estate. Owners are putting more value on space and privacy as they're spending more time at home than ever before. The opposite could be said about commercial real estate. It may be unlikely for office or retail value to ever look like it did in times before 2020.
In North Carolina, real estate never stopped as a process and was deemed an essential business in all facets. However, Mecklenburg County took a more strict approach by dividing occupied and vacant properties into two categories. For a 6 week period, there were to be no showings on an occupied listing (later clarified as a listing with any furnishings in it) meanwhile vacant homes could be shown exclusively.
It's likely the shortage in listing is stemming mostly from occupied homes where sellers decided to postpone their listings for variety of reasons including:
Loss of job or income that could result in mortgage disqualification for a different purchase, deciding not to sell would be a means of retaining a home.
Occupied home sellers lacked confidence selling for top dollar without ability to have showings
Open house ban (no longer in place) also reduced marketing efforts and showing traffic.
For their safety, safety of others, and to reduce the spread
Sellers with predisposed conditions at higher risk
Reduced confidence in the economy, a feeling of security
Change in goals completely due to combination of all of the above
Additionally, iBuyers (instant offer programs) froze buying for the past 6 weeks or so (some are re-starting programs now). Many sellers who sell to these companies choose not to list on the MLS because their homes aren't in a condition to sell for a good price. Others may wish to move, but their purchase is contingent on selling their home so seeking an instant offer is a convenient route to achieve their goals. iBuyer listing have become a growing source of new listings in our MLS over recent years.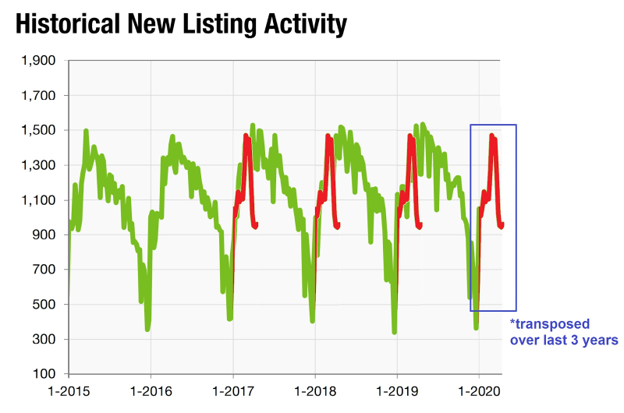 This major drop in listing supply is evident when compared to past years. As of May 8th, Mecklenburg County is matching the state's quarantine orders, which was relieved today to a phase I of re-opening. At this time, all real estate business is considered essential and both occupied and vacant listings can be shown in an exclusive manner (one client and 2 buyers at a time) with proper CDC guidelines in place.
What about demand
?
On March 13, 2020 the U.S. Federal Government declared a state of emergency in relation to the Coronavirus. The graph below clearly shows a drop in pending sales (when sellers and buyers agree on a contract) starting at the time of this order. Prior to that, 2020 was off to the strongest year of pending sales to date. We see this dip to a low on April 4th and immediately rebound. As of April 25th, the number of contracts written has caught up to the same rate from a year ago for the week. It's possible that the initial drop was largely due to uncertainty in the situation overall. The rebound could be buyers with deadlines forced to make a decision. Think of these as people who have planned on purchasing in the Spring of 2020 for an extended period of time and have very important reasons for a home purchase (growing family, job change, etc). The spring market is typically a very busy time of year for home buyers. What hasn't quite shown up yet is how unemployment and other factors will affect demand in coming months. Common sense here says demand would likely fall over a longer period of time (several months, not weeks).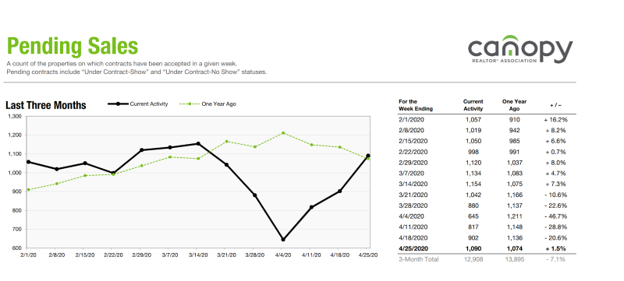 Where could price be going?
Have you been paying attention? It all depends on inventory!
Are you an optimist or pessimist? When does a vaccine come out? How much further does unemployment rise? Does social distancing and guidelines work as states reopen? Will the public support the same retail and services they did before?
What I know for sure is a lack of listings in the Spring is especially devastating to those buyers who must purchase. This means a lot of buyer motivation + general demand = increase in offered prices. However, I think it's very possible inventory of homes rises steadily over the coming months as demand may taper off. Will this be enough to change our months supply of homes to 4-6 months, or even more? If we cross that 6 month supply mark, it's safe to say previous trends and economists agree sellers will have to compete and likely lower prices.
On the other hand, could it be possible that even if the buyer demands relinquished, that inventory could also continue to stay very low as Americans hold on tightly to their houses? I think this is less likely due to the number of investor owned properties across the country and occupied home sellers who may find themselves in financial distress.
There are both local and foriegn investors renting out homes through leases, airbnb, and other avenues. Corelogic, a financial services company with loads of real estate data said that about 11.3% of homes nationwide were owned by investors at the end of 2018. Assuming some of these investor's income from their tenants is reduced, will they be more motivated to sell? Also, what about retiree investors who may not like their stock options as much as this time.. could they also be more likely to sell an investment property over stock?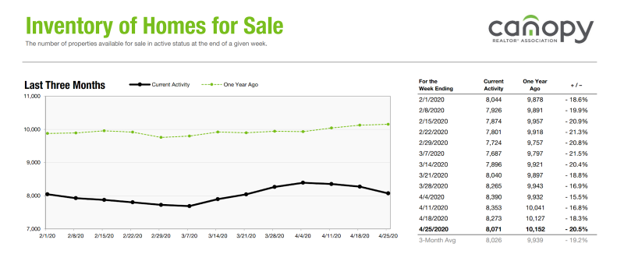 A simple stat to leave you with (from our Realtor Associations weekly market report) is that we have roughly 8,000 listings in the greater Charlotte area whereas last year this time there were over 10,000. This represents a year over year drop of 20.5% and without change here, it's unlikely prices for prices to come down.

If you wish to continue following daily market trends or have any questions, get in touch with us! We track daily numbers of new listings, under contract, sold homes, and more from the MLS.